Prevent Blisters with Blister Bomber
admin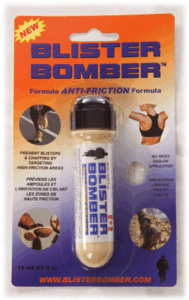 Blister Bomber is an anti-friction formula which is applied directly to skin.  It comes in a unique dab-on applicator which allows for easy and mess-free application.  On a recent trip to Washington, D.C. where a lot of walking was involved, I applied it to my heel and toe at the first onset of redness as I had purchased new walking shoes without allowing the proper break in period.  The results were great.  It saved my trip since I was able to continue walking and sightseeing without developing a painful blister.  My 11 year old son has also used Blister Bomber in his skates, especially during tournament weekends.  My wife now includes Blister Bomber as part of the first aid kit we bring with us on all trips.
John D Lanthier DPM, FACFAS
For more info, please visit Blister Bomber, proudly made in Canada.